Green Clean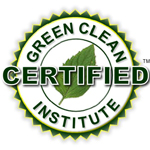 Clean as a Whistle Inc. takes protecting the environment seriously. That is why we became Green Certified.
Green Certification lets our current and potential customers know that we are taking the steps necessary to reduce our carbon footprint and we can also assist our customers in reducing theirs.
About Us
Clean As A Whistle is a commercial and industrial cleaning company that is dedicated to offering top quality cleaning products and solutions to our customers. We have assembled a full arsenal of services for our customers to insure that when they have a cleaning need, we can respond to that need in a timely and professional manner to insure quality results.